 Perfectly fitting lingerie will make you feel special, provide you with comfort and awareness of your body, so with attention to every detail we create a brand that fuels women's beauty. 
"Thickly sewn" is the answer to the needs of women who want delicate, sensual, yet carefully finished lingerie made especially for them. What we wear under our clothes affects our mood, our mood and our self-esteem. In an age of mass market and sameness, our services are reminiscent of a bygone era when women went to corset makers and tailors to have the one and only perfect piece of lingerie created for them.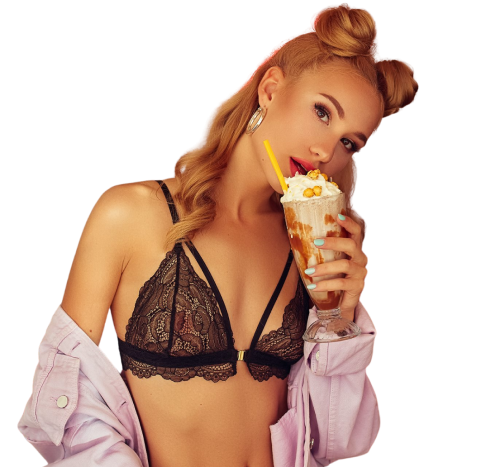 Tailored underwear - why is it worth it?
Choosing tailored lingerie, you get a guarantee of perfectly matched size, precise fit of each item, and thus above-average comfort, elegance and greater self-confidence. In our atelier we deal with tailor-made sewing of day and night underwear. We offer models in different colors, sexy and classic, in different styles, with lace elements and with various types of decorations. We use fabrics made in Poland, which gently wrap the skin and allow it to breathe.
Perfectly fitting underwear
A custom-made bra will beautifully expose the breasts and will not press or cut into the skin. Moreover, the size-perfect cups will wrap around the breasts and will not unsightly protrude. All this will guarantee excellent comfort. Bespoke bras are also an excellent solution for ladies who have trouble fitting bras available in standard sizes. Of course, the bra is not the only part of underwear. Well-tailored

panties, thongs, boxers or other types of panties are a guarantee of comfort and convenience. What's more, some types of panties, such as those with a higher waistline, will make it possible to mask the belly or accentuate the buttocks.
Each of us should have at least a few sets of nightwear in her closet. One that will guarantee comfort and convenience every night. In our atelier we also deal with tailor-made sewing of shorts, robes, shirts with long or short sleeves. Each model is created with attention to the smallest detail.
Our designs are distinguished by delicate design, perfection enchanted in aesthetic colors. They expose your beauty and sensuality in order to make you feel special.
The extraordinariness of each of us deserves admiration and appreciation, so we make every effort to make our lingerie as comfortable as possible, while maintaining its delicate form.
When designing, we keep in mind the diversity of the female body. We invite a variety of models to work with us, so we can show how the design exposes the individual qualities of each of us. Your opinion is extremely important to us, so you often participate in the design process. We count with your opinion thanks to which we constantly develop our brand.
Bespoke sewing in a small workshop allows us to create an exclusive product. We support the Polish market by working with local entrepreneurs.
Work ethic is very important to us, which is why the underwear that comes into your hands is made mainly from materials derived from Polish wholesalers. With attention to the smallest detail, we pay extraordinary attention to every stage of production. From design to shipping we put all our heart into our work so that you can feel full satisfaction from choosing our brand.
Thank you for being with us!